Last summer, when time was still on my side, I spent a few days as a docent at the Rensselear Russell House Museum in my hometown of Waterloo. A Victorian structure built in 1857 by businessman R. Russell, the home stands on its original spot overlooking the downtown area situated near today's Grout Museum of Science and History and its accompanying structures, the Snowden House and Imaginarium, both of which also have interesting histories related to the area.
I first visited the Russell House when I was in junior high school in the early 1990's, probably seventh or eighth grade, and have held a youthful fascination with it since. Needless to say, I was excited to serve as a docent and offer tours and my own retelling of this structure and family's history.
My first day was great. I had about 4 or 5 different groups of people come in, ranging from retired couples passing through town to families with their young children. The time flew and I was closing up before I knew it. My second day was less busy. In fact, no one came. It was probably because Cedar Falls was holding its annual summer festival, Sturgis Falls. That said, I had my book and was prepared to settle in for my three-hour shift waiting for anyone who might choose to call on me that day.
The house was very quiet with just me occupying her spaces, and the air was still and musty except for the slight breeze from the modern AC flowing intermittently about. I could not help but close my eyes hoping to "hear" the house. I wanted so much for it to speak to me, for a voice to come through the quiet and tell me what life had been like in the house so many years ago. I tried to imagine myself as a family friend and wondered how it would have been to sit in the fancy parlor or the family's sitting room. (Because it's a museum, there are limited places where one can sit now. I was on a metal folding chair most of the afternoon.) How would I have had to act? What would I have been wearing? What type of education would I have had? How different would my life be?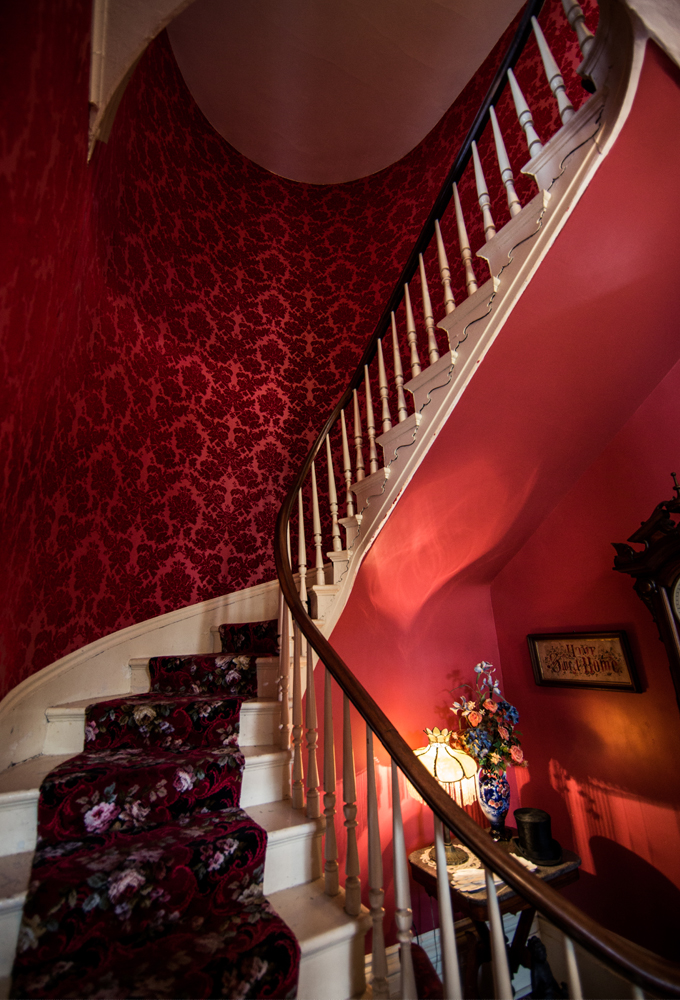 Alas, all was quiet that day in the Russell House. No voices, no sounds, no stories, no answers. The wannabe "ghost hunter" in me wanted to see Mrs. Russell come down the grand entryway steps or hear the laughter of young Genevieve who drowned in a cistern on a nearby property when she was very young. The hurt experienced by the family during those dark days after losing Genevieve, the joyful birth of their daughter Lillian years later, and the later deaths of both Mr. and Mrs. Russell seemed to hang in the air around me. (Image from the Grout Museum District webpage).
While disappointed at the time that I had no "living" visitors to lead around the house, looking back now, I see what an amazing gift I was given to have the experience of being in that house all by myself. It offered me solitude and time for reflection. For a brief period of time, I was with the Russell family, stepping tentatively into their world, yet keeping one foot (securely) in my own.